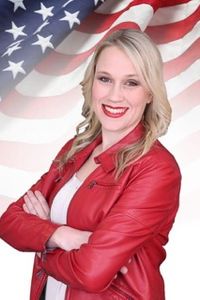 Elected in 2022, Peoria Unified School District board member Heather Rooks is no stranger to controversy. Rooks is a founding member of West Valley Parents Uniting (previously, the suffix "against critical race theory" was used) a 501(c)(4) organization with the self-proclaimed mission to, "Unite parents, grandparents, and local community members to join for the purpose of bringing about a better understanding and an increased participation in our local educational systems." The group was founded in 2020 to protest mask mandates but has quickly expanded into bringing various political and culture war issues to the board room.
Most recently, Rooks has been a voice at the Arizona legislature, weighing in on bills in education committee hearings. On January 18th, she spoke on SB1001, a controversial bill that would ban the use of a student's preferred pronouns or name without parental approval. Clarifying that she is speaking on her own behalf, Rooks begins by stating that a Peoria Unified School District teacher recently resigned because of pronouns due to her religious beliefs and that a teacher friend in another district is considering a similar move. Continuing, Rooks says that "we need to have a conversation right now about the sexualization that comes with the use of pronouns." She says that preferred pronouns imply sexual attractions or preferences. "Asking or offering preferred pronouns is asking someone to reveal their sexual attraction," Rooks says.
It is clear that Rooks believes that a teacher asking a student their preferred pronoun is sexualizing a minor, but LGBTQ and human rights groups say otherwise. The Oxford definition of a pronoun in this context is "a third person pronoun by which an individual wishes to be referred to in order to indicate their gender identity." According to the Human Rights Campaign, gender identity is defined as "One's innermost concept of self as a male, female, a blend of both, or neither – how individuals perceive themselves and what they call themselves. One's gender identity can be the same or different from their sex assigned at birth." 
So Why Do Pronouns Matter?
Over the last few decades, we've seen an increase in individuals who identify somewhere on the LGBTQIA+ spectrum. Contrary to some beliefs and common political rhetoric, this isn't due to indoctrination, food additives, or "grooming." The increase in identification can be largely attributed to the shift in popular opinion, the legalization of gay marriage, and the generally supportive stance of the LGBTQIA+ community by American society. 
So why does it matter if we use someone's preferred pronouns? It can mean life or death. In 2019, the Minnesota Department of Health released a study that found 42% of LGBTQIA+ youth seriously considered attempting suicide in the past year, including more than half of transgender and nonbinary youth. Transgender and nonbinary youth who reported having their pronouns respected by their immediate family, teachers, and friends reduced that attempted suicide rate by half. Those who were able to change their name and/or gender marker on legal documents and/or had access to spaces that affirmed their sexual orientation and gender identity reported even further reduction in attempted suicide. 
Why Make it a Big Deal?
The fact is, actively choosing to ignore someone's pronouns or "dead-naming" them is harassment and implies that an individual does not exist. Something as simple as using the right word is the difference between supporting someone through acceptance or potentially increasing their depression and increased risk of suicide. We use pronouns everywhere in our daily lives, and choosing to use the preferred pronoun of someone doesn't hurt anyone or violate religious beliefs. Any time we can reduce depression or suicide rates in our community's youth, we should do it – especially when it's something as simple as respecting their identity.
Are you a parent, teacher, or community member needing resources on this topic? Check out "Schools In Transition: A Guide for Supporting Transgender Students in K-12 Schools," produced by the HRC Foundation.